EGC - Easy Garden Control
With OASE EASY GARDEN CONTROL (EGC) the age begins in which all important functions in and on the pond or in the garden can be centrally controlled via the home network. It enables convenient operation and control of the connected devices with an app via smart phone or tablet.
Even at introduction all OASE EGC products can be controlled via the home network. However, with the next generation you will experience operating convenience in an entirely new dimension. In the future – after a free-of-charge update in 2017 – the EGC products can be networked with the mobile OASE Cloud, so that your customers can have their garden pond under control at any time, and from anywhere in the world.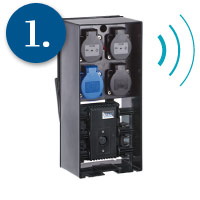 InScenio FM-Master WLAN EGC
The new top model of the OASE FM-Master series is the heart of the Easy Garden Control system. It enables control via tablet or smart phone with iOS or Android. In addition to the actual router connection, in the course of the year 2017, connection to the OASE Cloud will also be possible. Function data can be stored, analysed and graphically formatted on the OASE Cloud. And this can be done from anywhere in the world.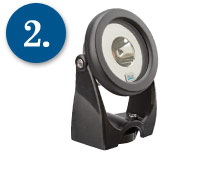 RGB spotlight ProfiLux Garden LED
The compact and energy-efficient RGB LED spotlight offers colour illumination effects without programming effort. It can be activated via the FM-Master WLAN EGC app and extended to as many as 4 light fixtures per controller.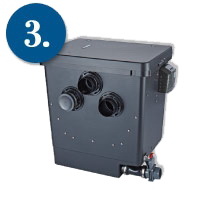 ProfiClear Premium EGC
The ProfiClear Premium series, including the compact models, is now integrated in the EGC system and in addition offers important product improvements. In addition to the control possibilities of the controller, as part of the Cloud update, extensive analyses concerning rinse water consumption, temperature curves, or mobile information in the event of malfunctions can be presented. The new safety advantage: For the gravity-fed models an additional sensor also detects failure of pumps that are not suitable for EGC.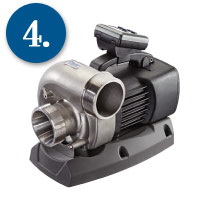 AquaMax Eco Titanium
The powerful, energy-efficient gravity filter pump is especially suited for large bodies of water with koi stock. It has a robust pump casing of cast stainless steel and rotor shafts with bearings of high-quality SIC ceramic. Via the EGC connection the filter pump can be networked with additional OASE EGC products, and thus provide feedback concerning operating status, power consumption or performance data.


Key features
Smart networking of OASE EGC products
Central control of pumps, drum filters or lighting
Bidirectional and intelligent communication solution
Compatible with off-the-shelf routers for integration in the home network
Control of OASE products with radio remote control (433 MHz)